"

Beautiful acoustic rhythms, vibrant classically infused single note lines and jazzy arpeggios cover the magnificent musical landscape these three players create."
— Metronome Magazine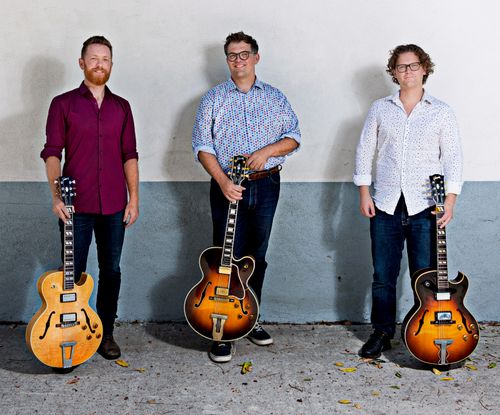 New West Guitars have developed a widespread reputation as one of the premier jazz guitar ensembles in the world. Featuring guitarists Perry Smith (NYC) John Storie (LA) and Will Brahm (LA), they perform exciting originals, jazz standards and popular covers. Their signature sound comes from an innovative style that highlights rhythm, beauty and virtuosity through using classic "archtop style" jazz guitars.
Their new project features violinist and vocalist Leah Zeger. Presenting a fresh take on the sound of Django Reinhardt and Stéphane Grappelli, this exciting show has recognizable classics performed in a new way. Zeger's beautiful voice and top-notch violin playing pairs perfectly with the powerhouse jazz guitar trio.
Starting in the Fall of 2020, John, Perry and Will started a podcast series called High Action. Interviewing a variety of legendary and influential guitar players, the trio has provided a space to build community, share experiences and learn from some of today's leading voices on the Guitar.
 Praised as "sharp and refined" by the Seattle Times,  the New West Guitars have released 7 full length albums since 2005. Each project features their unique style of laid-back virtuosity and finely crafted arrangements. Their latest album "Live at Mauch Chunk Opera House" was filmed and recorded near Allentown, Pennsylvania at a legendary opera house built in the 1800s. The project features original compositions and popular covers captured in an exciting live setting for a sold out crowd.  
In August of 2015, New West released a collaborative project "Send One Your Love" on Summit Records. The recording features renowned jazz vocalists: Gretchen Parlato, Sara Gazarek, Becca Stevens, Tierney Sutton and Peter Eldridge. Downbeat Magazine gave this CD the prestigious Editor's Pick in their August 2015 issue. 
Smith and Storie founded New West at USC's Thornton School of Music. Today they continue to tour as a trio with Brahm and special guests throughout the United States and abroad. Their music is regularly featured on NPR and jazz radio stations, while their repertoire is performed throughout the country by college and high school guitar programs. New West Guitars versatility as players and composers have given them a reputation as pioneers in the realm of guitar ensemble.
"

A rare chemistry...shimmering arpeggios, collectively strummed chords, tight cracking interplay and complementary playing. "
— Downbeat Magazine
"

They're masters of their caressing, cascading sound, best categorized as chamber jazz...dexterously peppered, now and again, with Gypsy fire, flamenco zest and steel-string twang."
— JazzTimes
"

The group's creativity in not being afraid to stretch boundaries is helping to forge a new area of music that should inspire other guitarists."
— Vintage Guitar Magazine